Meet Chicago's Most Famous Otter
by elaine_anderson, 6 years ago |
4 min read
---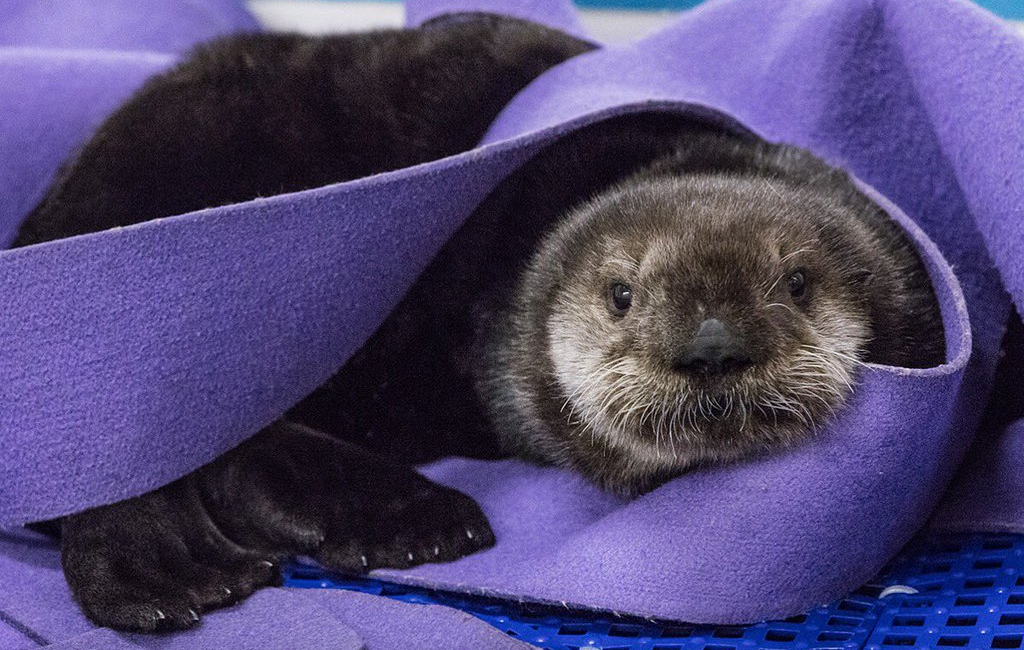 How Ellie went from abandoned orphan to aquarium celebrity.
On a snowy Chicago morning, sea otters bob and dive in their two-story habitat at Shedd Aquarium.
"Mom, look! It's Ellie!"
A little girl presses her nose to the glass, eyes following a slick brown otter pup floating on her back. As the youngest (and dare we say cutest) pup at the aquarium, Ellie is somewhat of a celebrity at Shedd as well as a conservation ambassador for her species. Exuberant and playful, she's come a long way since her rescue a year earlier.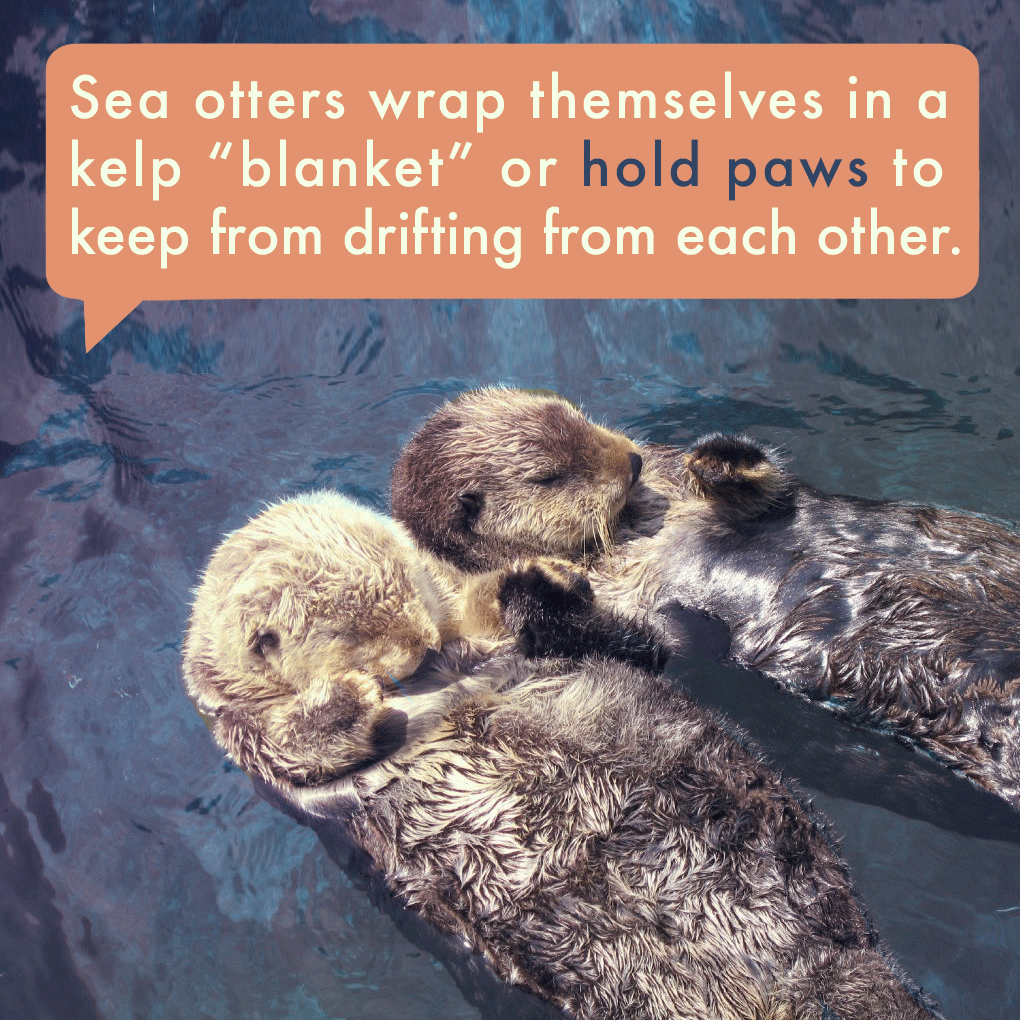 On Jan. 6, 2016, rescuers found Ellie on a beach in Carmel, California, separated from her mother during a big storm. The US Fish and Wildlife Service quickly tried to reunite the pup with her mother. When the search proved fruitless they reached out to the the Monterey Bay Aquarium, the only facility in California equipped to care for endangered southern sea otters.
At just 4 weeks old, Ellie was deemed too young to be released into the wild. Typically, otter pups learn to forage for food and groom their thick fur from their mother. Grooming skills are especially important because they need a clean coat to stay buoyant.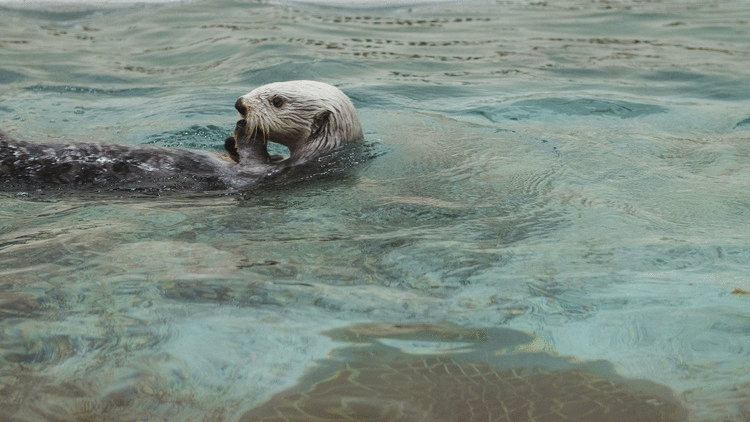 Ideally, the Monterey Bay Aquarium would have matched Ellie with a surrogate otter mom who could teach her the skills necessary for a return to the wild. Unfortunately, at the time of her rescue they had more lone pups than available mothers to care for them. So the staff at Monterey Bay reached out to their colleagues at Shedd Aquarium.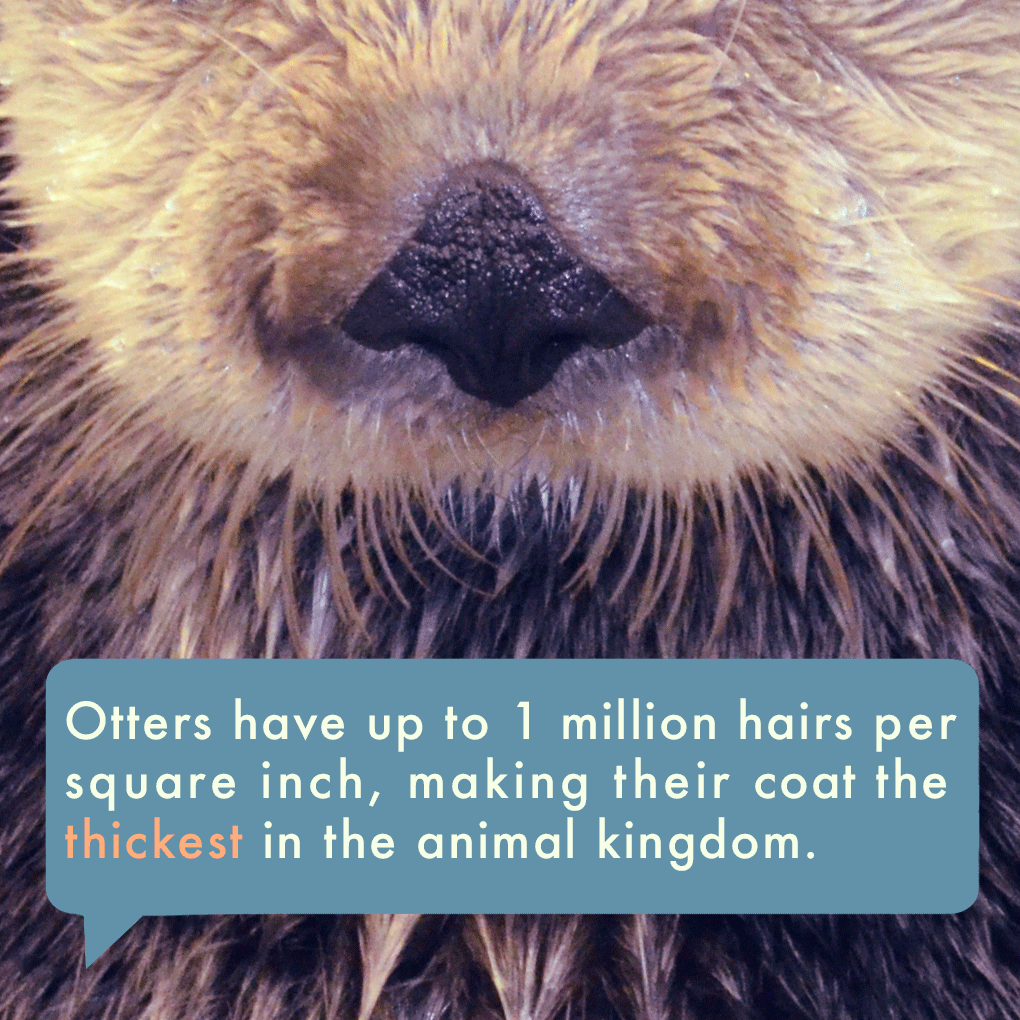 "If they can't find zoos and aquariums that have room for these pups, they have to be euthanized, which is really sad," animal care expert Lana Vanagasem told Dose. "If at all possible, we always try to rescue them."
Shedd has been an expert in otter care since 1989 when they rescued and rehabilitated four pups from Alaska's Exxon Valdez oil spill. Since then, they've rescued and hand-raised a number of sea otter pups into adulthood.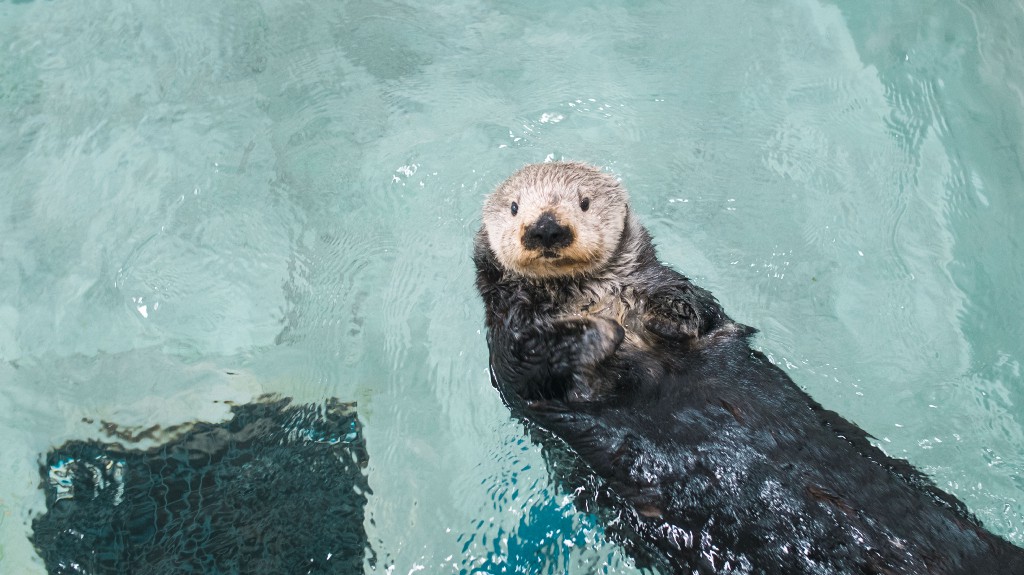 On Jan. 27, 2016, animal care expert Michael Pratt, a member of Shedd's Animal Response Team, brought Ellie to her new forever home in Chicago. In her first few months, she received round-the-clock care from staff that helped groom and feed her.
"Just like an infant we had to feed her from a bottle until she was old enough for solid food," said Vanagasem. "Then we were able to get a little more hands-off and start introducing her to some of our other otters."
Today, Ellie is developing into a healthy (and feisty) young otter. Although she can't return to the wild — she's too comfortable around humans now — she's found a new family at Shedd.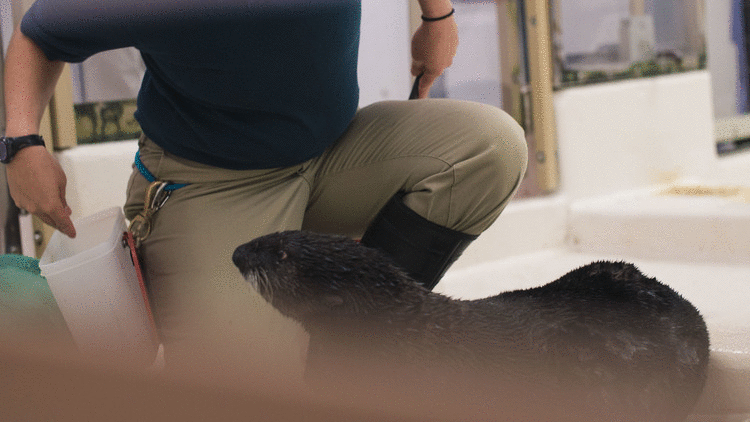 Behind the scenes, Ellie gets lots of love and attention from expert trainers who use positive reinforcement to teach her new skills. In addition to feeding and grooming, she's learned to respond to her own name and recognize her trainer by the red circle on her belt.
For extra enrichment, Ellie challenges her brain with a puzzle. Designed for Shedd by engineers at Northwestern University, this plexiglass puzzle maze lets otters push a treat-filled-ball through a series of levels with their paws. If they get the ball to the end, they win a fish feast.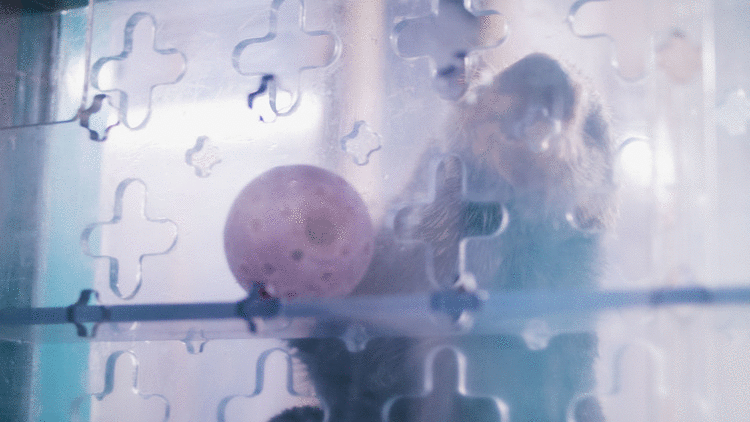 When she's not diving or training, Ellie eats— a lot. With their super fast metabolisms, sea otters can eat 25% of their own body weight every day. That's the human equivalent of 10 pizzas. And this isn't any old chum — otters at Shedd receive a mix of restaurant-quality sustainable seafood including shrimp, clam, pollock and capelin.
To get to meat out of tricky shellfish like crabs and clams, Ellie uses a rock or similar object to break open the shell. And if she's not particularly hungry, she saves some food for later in the pocket of skin under her arm. Yum, armpit snack!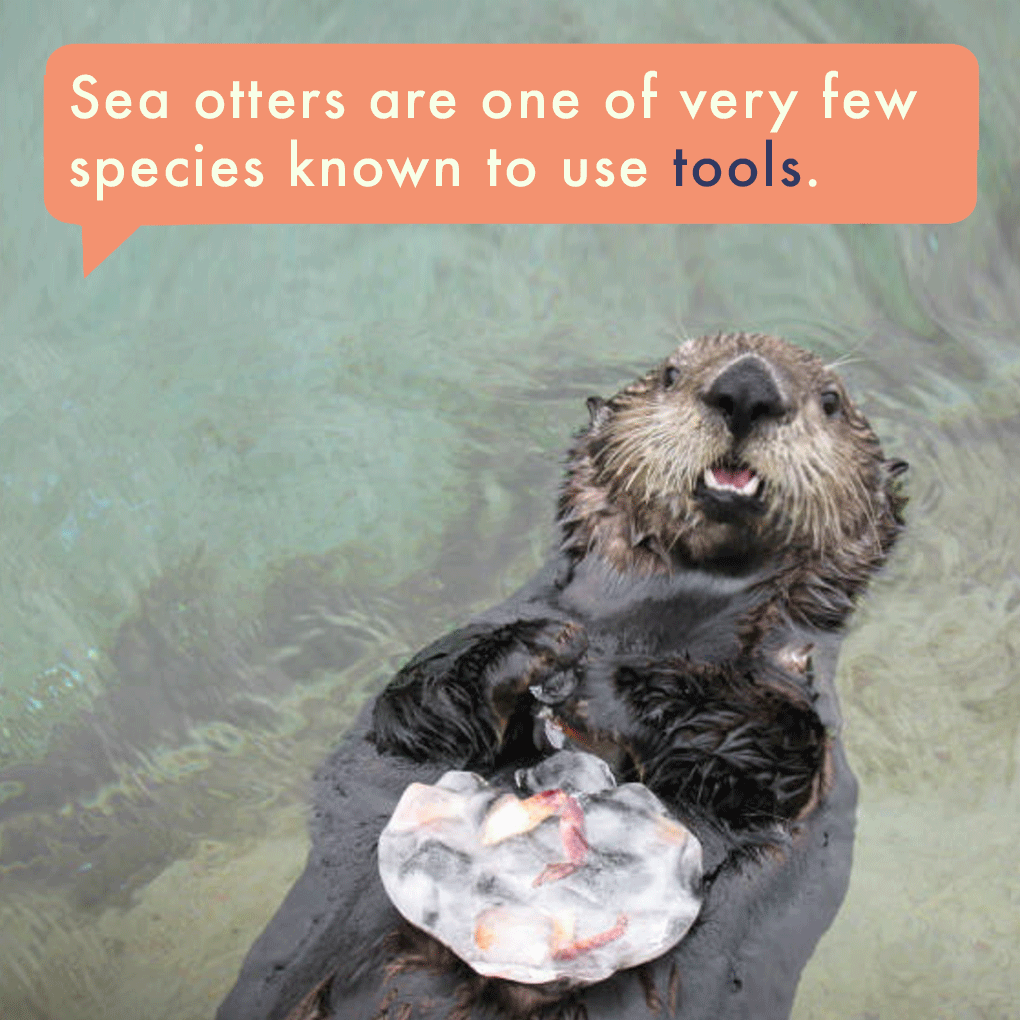 From lonely orphan to pampered star, little otter Ellie has come a long way in 12 months. This February, she'll celebrate her one year anniversary at her forever home. If you'd like to give her a birthday present, consider donating to the aquarium (just $10 can help buy an enrichment toy). Or you can pledge your time and commitment by becoming a Sheddvocate.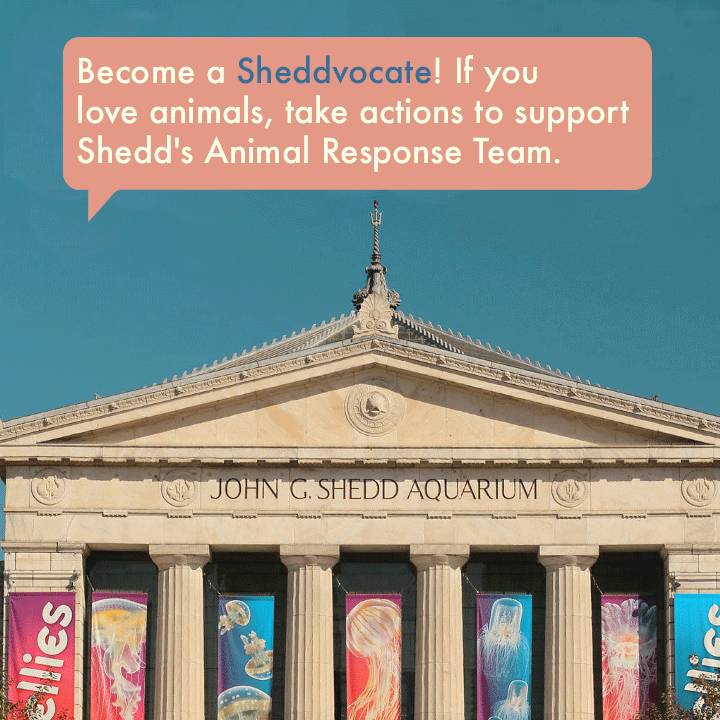 If you're not in the Chicago area, you can still keep up with Ellie on Shedd's Facebook and Instagram pages where she is frequently in the spotlight. For those of you lucky enough to be nearby, stop by and send her some love. She'll splash some right back.
All original photography from Dose's Drew Wittler and Ryan Luciani. Fact images by Ines Vuckovic.
✕
Do not show me this again