Don't Be Depressed... This Innovative App Will Help You Get Through Life's Difficulties
by N/A, 7 years ago |
2 min read
Social media is an endless void where people go to dump whatever they want into the Internet, and as you may have seen the author of this post already discuss, that may be the problem you're facing with losing friends on certain outlets. Generally speaking, people tend to just portray the best version of themselves on social media as if to say, "Look–I'm better than you." If for once in their lives these people feel compelled to actually act real, Koko is a new social media app for the stressed.
---
What does that mean: a social media app for the stressed? Well, on Koko, users can post about problems they are facing in their lives without bogging down the vacation and date night photos of their Facebook and the like counterparts.
Essentially, if a person gets on Koko they can talk about a bad situation they're facing at work, you know, in a real whiny voice that strangers are excited to get in on. The app prompts users to delve deeper into their thoughts and really think about what's going on. Likewise, other users can get on the app and comment, only if it's meaningful to the discussion, and help these people reframe or reshape their thoughts, as if to look at it in more positively. Like an insightful stranger on a bus.
The idea is centered around the concept Cognitive Behavioral Therapy, which makes people try out a new perspective on a situation, as suggested by a stranger. You know, something that people complaining on social media apps are totally comfortable with.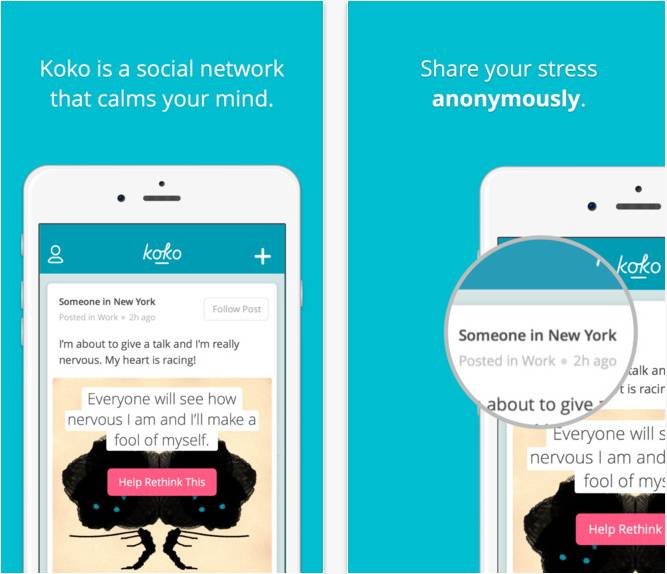 Posts are put up anonymously and the whole thing works like a big support group for people who feel anxious or stressed or depressed about anything from life in general to some jerk or situation around the workplace. It's kind of like how when somebody asks you, "How are you?" and you always say, "Good," no matter what. Well, now you no longer have to do that.
Just log in to Koko (available on the iPhone and an Android app coming soon) and dump your problems on strangers hoping they can fix them.
✕
Do not show me this again