15 Ways Halloween Is Celebrated In Other Cultures. Italy's Tradition Is A Little Scary
by N/A, 9 years ago |
1 min read
|

607
Halloween is a fall favorite holiday among many Americans, but it and similar holidays are celebrated all around the world.
---
1. Spain
The Spanish celebrate Dia de las Brujas (Day of the Witches) for three days by lighting bonfires and drinking a local drink called quemadas.
2. Scotland
Much like in America, children in Scotland wear costumes and go trick-or-treating. There is also a festival in Edinburgh that features a fire processional and music.
3. Poland
Those who observe All Saint's Day in Poland leave their doors open to welcome wandering spirits.
4.Portugal
Portugal also celebrates All Saint's Day. Children celebrate by singing songs door-to-door in exchange for treats.
5. Hong Kong
Yue Lan or Hungry Ghost Festival is celebrated in August. The holiday is celebrated for 24 hours, during which time it is believed that spirits roam freely.
6. Cambodia
In Cambodia, a 15-day festival called P'chum Ben is celebrated. Cambodians bring a variety of foods for the dead.
7. Germany
In Germany, All Saints Day is celebrated. During this holiday, some citizens hide their knives from nearby spirits.
8. South Korea
South Korea is huge on costumes, festivals and parades. Streets are often closed to accomodate those celebrating.
9. Ireland
Rather than bobbing for apples, children in Ireland play "snap apple." The object of the game is to get a bite out of an apple that is hanging overhead.
10. Italy
Italians celebrate by "crossing devil's bridge" a bridge in Borgo a Mozzano.
11. Czech Republic
Celebrated on November 2, Commemoration of the Departed is the Czech holiday where people honor the dead. They typically place chairs in front of a fireplace to symbolize living and dead relatives.
12. Belgium
Many Belgian cities hold festivals or parades to celebrate Halloween. Most Belgian citizens leave lit candles outside their homes to honor the dead.
13. The Philippines
The Philippines celebrates All Saint's Day during the first week of November.
14. Mexico
Dia de los Muertos (Day of the Dead) is a famed tradition in Mexico. It is celebrated by trick-or-treating or creating intricate altars for the dead.
15. Austria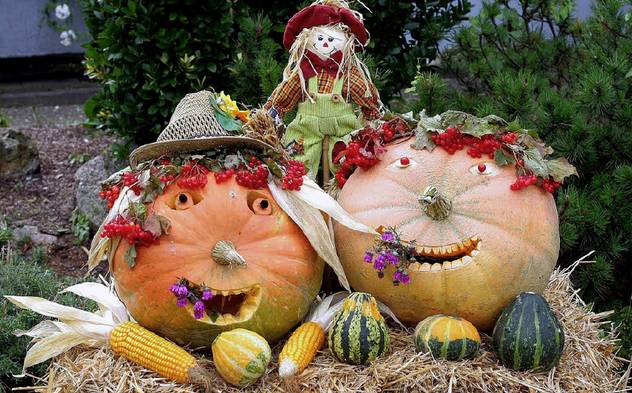 If you thought you were obsessed with pumpkins during the fall season, think again. Austria holds an annual pumpkin festival called Halloween-Umzug.
✕
Do not show me this again