France's First Floating Hotel Is Ultimate Travel Goals
by RebeccaTaras@omgfacts.com, 7 years ago |
3 min read
---
C'est parfait!
Despite a
disastrous flood
a couple months ago, the banks of the Seine River is where you want to be when visiting Paris in the summertime — hell, anytime. Whether you're sitting by yourself on a bench devouring a jambon sandwich, taking a leisurely ride on a bicyclette, or getting it on like a teenager under the Pont Neuf bridge, it's definitely a special place you can make your own. Well, the second longest river in France recently received an upgrade: the country's first floating hotel.
Behold, Off Paris Seine Hotel.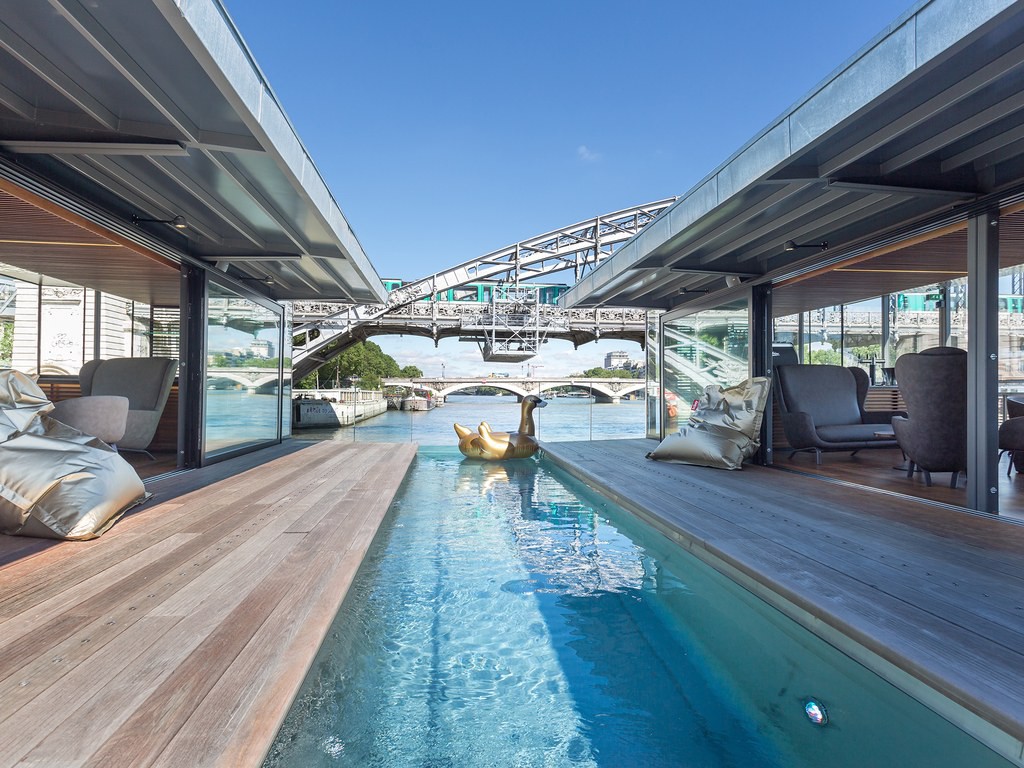 The unique concept is the brainchild of Gérard Ronzatti of
Seine Design
, a company that specializes in floating architecture (who knew?). All of the hotel's components were built in Le Havre before being sent down the river to the current location. Anchored near the Gare D'Austerlitz in the 13th arrondissement — an area that's 'recently seen an influx of trendy art galleries, shops and its own Batobus stop — the 58-room barge is officially now
the largest boat docked in Paris
. Dynamic duo Maurizio Galante and Tal Lancman are the award-winning masterminds behind
Off Paris Seine
's clever design."There's been a gap — not enough of a connection — between the Seine and Parisian life," Lancman explained to
Condé Nast Traveler
. "In our design, we celebrate this new city experience that hasn't existed in Paris until now."
It's all in the details.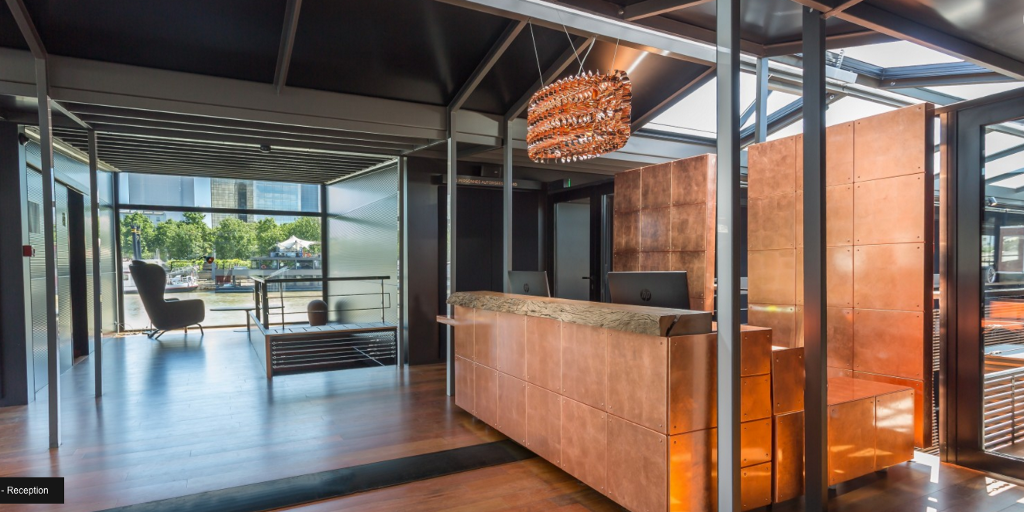 The design definitely has a nautical feel without looking like a French version of "Gilligan's Island." For example, the reception desk incorporates a 250-year-old piece of wood that was treated to look as though it spent some time out on the water. To class it up à la Parisian style: a copper top, bien sûr. Other highlights include the lounge ceiling covered with 8,800 suspended squares of metal that softly hum as the boat bobs on the river and porthole windows treated with undulating curtains designed to look like water. Let's not forget the pool and deck where you can wave at all the jealous passengers riding the water taxi.
You'll sleep like a bébé.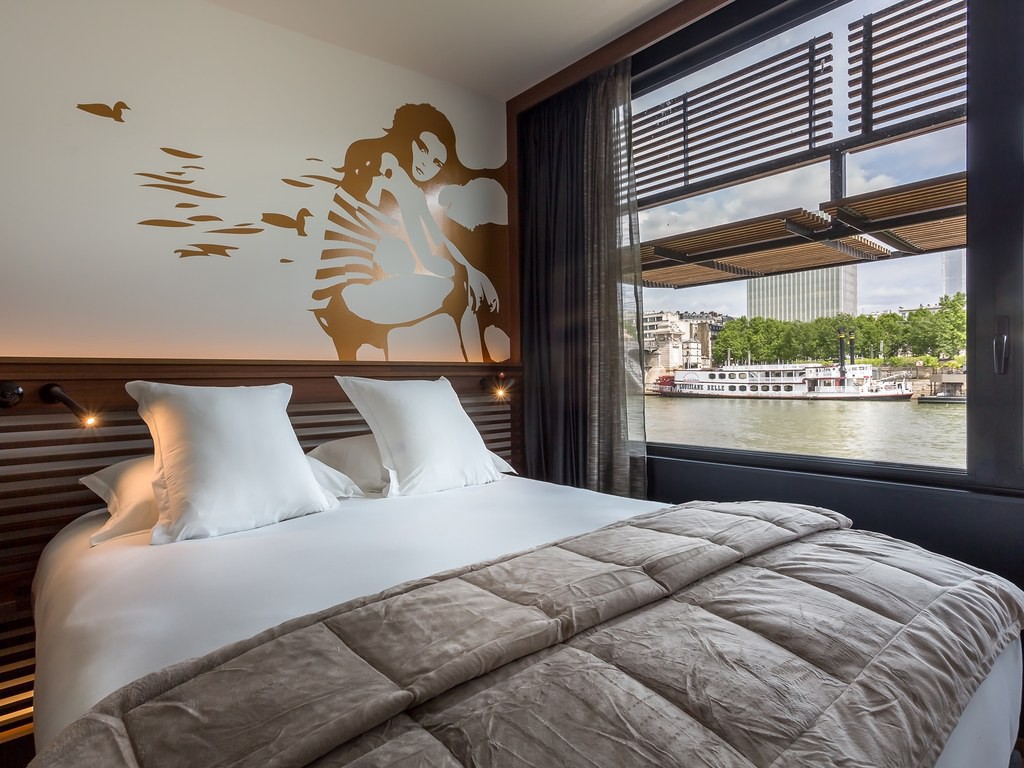 With the exception of the two Horizon suites positioned at the bow of the boat, the remaining 56 rooms boast either a Left or Right bank view — you can't lose with either one. A gentle current provides a subtle, waterbed-like sensation that's guaranteed to put you into a deep, carb-induced slumber.
You don't have to be a hotel guest to check it out.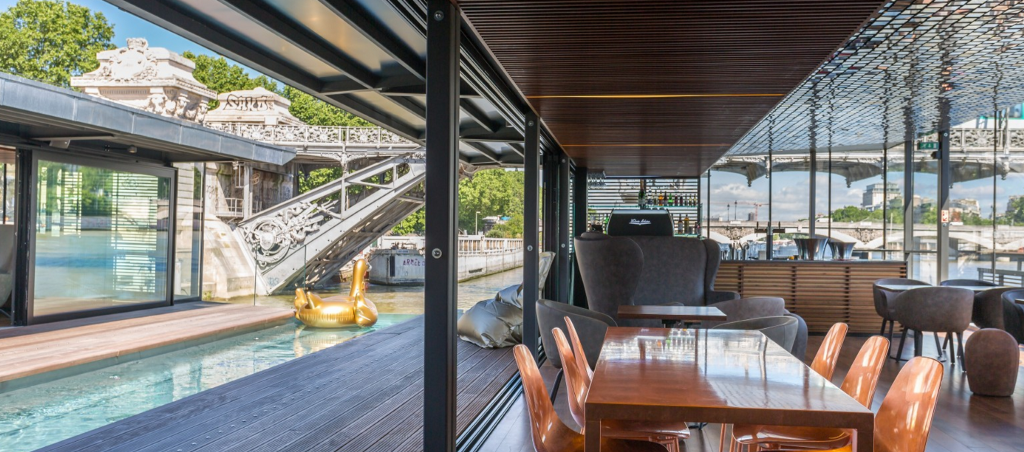 The hotel recently expanded its terrace out to the riverbank — which basically sounds like the perfect spot to scout out a Parisian romance. Stop by daily from 5 p.m. to 1 a.m. for a frosty libation and nosh made with local ingredients from in and around Paris — you can bet your baguette cheese and pâté will be involved.
✕
Do not show me this again