Meet Hilda, The World's First Plus-Size Pin-Up Girl
by k._thor_jensen, 6 years ago |
3 min read
---
Hilda stole hearts in the 50s. Now she's making a comeback.
During the 50s, female beauty was pretty conventional, all things considered. When you think about the legendary beauties of the era, you think Marilyn Monroe and Elizabeth Taylor — wasp-waisted and curvy where it counts, but otherwise slim and trim. However, there was one pin-up figure that flouted this standard to massive success — a brassy redhead named Hilda, who was featured in calendars from the 50s to the 80s in a variety of poses that unapologetically showed off her figure. Those calendars hung in gas stations, back offices and everywhere men with a little spare time gathered.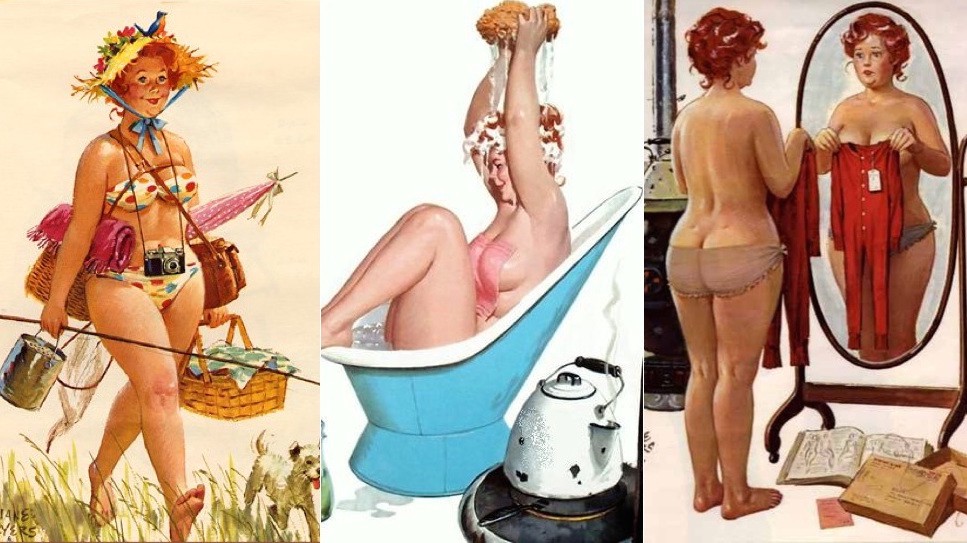 This rambunctious redhead was the creation of artist Duane Bryers, a Minnesota farm boy-turned-commercial artist who saw a big demand for an unfilled niche. Unlike Ava Gardner or Brigitte Bardot, Hilda was realistically proportioned to represent an average woman. And, up until recently, she was lost to history. Bryers always had art on the brain. When he won a commission from his local school board in 1937 to paint a mural about Minnesota's iron mining industry, they financed his trip to New York City. He would spend the next decade haunting museums and galleries, picking up techniques from throughout history while working for ad agencies. It was there that the idea for Hilda came to him. The 50s were the peak of the pin-up form. But in a sea of women who were all painted thin, tall and long-legged, Bryers wanted to create something different. So, he made some preliminary drawings of Hilda and took them to calendar publisher
Brown & Bigelow
. They reluctantly signed him for a deal , which hinged on sales of the calendars being above a certain level. They didn't drop below that level for 37 years. And throughout that time, Bryers continued to draw picture after picture of his dream woman.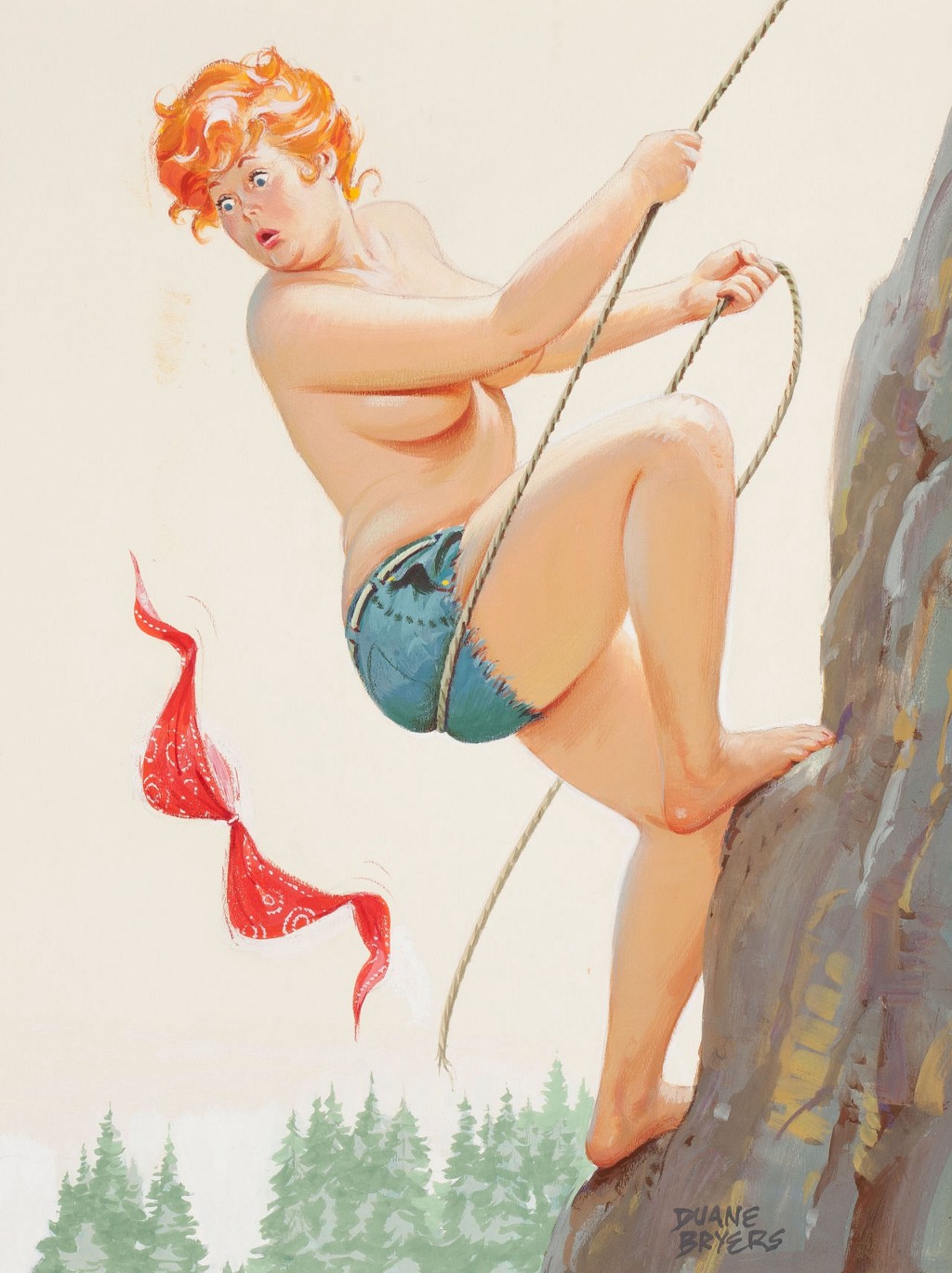 He
didn't work from a model
, as many contemporaneous artists did. Instead, Bryers let his imagination run rampant, creating an idealized plus-sized woman. But it was Hilda's personality that sold calendars as much as her body — she always seemed ready for adventure; she had a carefree demeanor; and she always exuded a fun attitude. Over the next few decades, Bryers churned out hundreds of paintings of Hilda in pretty much any situation imaginable. Eventually he moved to Tucson, Arizona, where he continued to make art a full-time job while raising a family. When the demand finally slackened, he stopped drawing the redhead and moved on to other subjects. That wasn't the end, though — eventually, demand for Hilda came back, and Brown & Bigelow started issuing new calendars with the same, beloved art.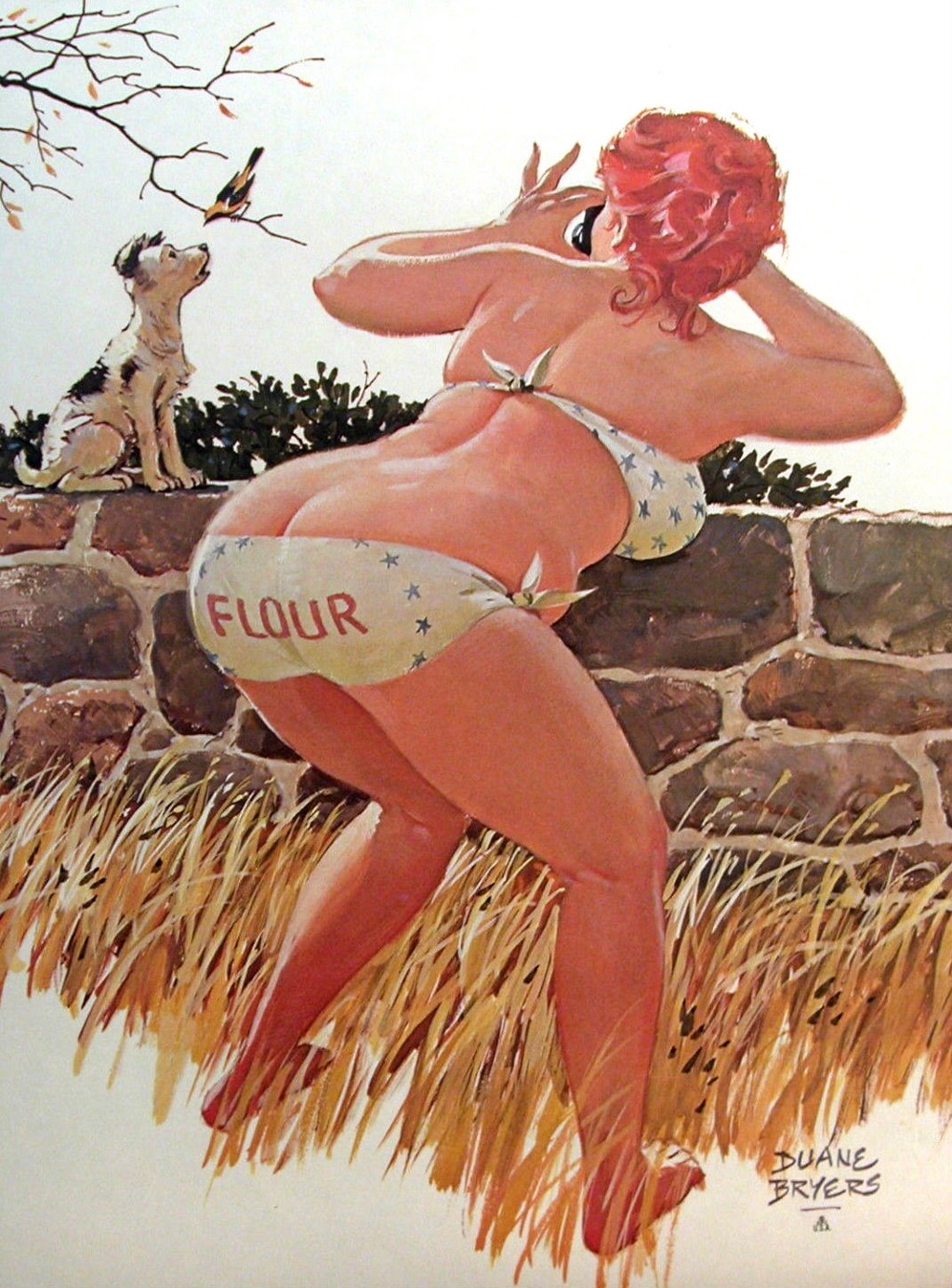 The brilliance of Hilda was that she satirized pin-up conventions while also embracing them. Sure, she twisted her body into alluring positions while showing off an acre of flesh, but she did it with a wink to the ogling viewer — an acknowledgment that alluded to the idea that, "Hey, we're all having fun here." They're sexy without being sexist. And even though she's a figment of Bryers' imagination, it feels like she's enthusiastically giving consent to his eager painting. Bryers
passed away at the age of 100
in 2012, leaving behind a career that included not just Hilda, but iconic images of the American West, featuring cowboys, rolling vistas and glorious plains — all delineated with the same style. Friends eulogized him as a man who could truly paint anything. Today, his most famous creation lives on. If you want to see more of Hilda, here's a
Facebook group
devoted to her.
✕
Do not show me this again