This Girl Is Just 17 Years Old, And She Is Going To Revolutionize Modern Medicine
by N/A, 8 years ago |
2 min read
|

1016
When you think of science projects, you might think of papier mache volcanos or model rockets. Maybe an elaborate demonstration of a chemical reaction. 
When it came time for Anya Pogharian's science project, she thought of affordable kidney dialyses procedures. 
---
The Montreal native built an at-home dialysis machine, which took her 300 hours total to create.
For a little context, the assignment in her science class called for 10 hours. 
She also designed a machine that would be possible to use at home, allowing patients to avoid physically and emotionally taxing hospital trips and have an ultimately higher quality of life.
So the deal with kidneys is that they're VERY important in a person's health. They remove waste, regulate potassium, and process drugs. They also regulate blood pressure.
When a Kidney fails, the body still is in dire need of these procedures! And that's where a dialysis machine comes in. 
This is what a run-of-the-mill dialysis machine looks like. It's big, it's complicated, and the kicker—it's EXPENSIVE.
Kidney failure does not discriminate based on income, and the unfortunate truth is these machines are just not in the cards for many low-income people suffering from kidney failure. 
And this is the real beauty of Pogharian's machine—the simplicity and affordability of the thing.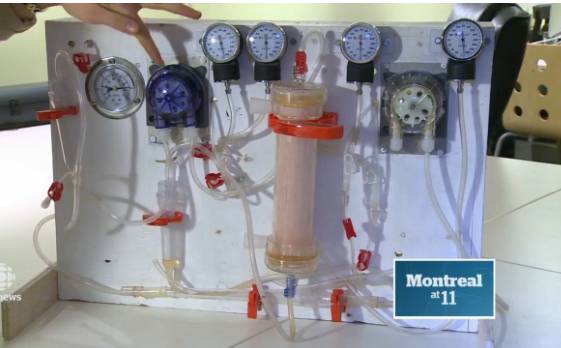 Her machine would cost patients around $500, which is hardly a drop in the bucket compared to the $30,000 it would cost when using a hospital machine.
For more information on how the machine actually works, watch her video here!
✕
Do not show me this again